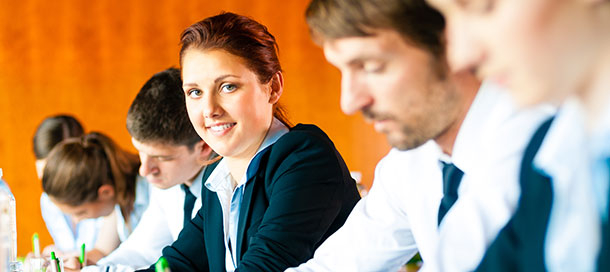 Description
Today's society in general raises new educational demands that require professionals with multidisciplinary training to face them. These new educational needs have, likewise, created new educational fields and contexts that differ from conventional ones, by which the need arises for specialized educational interventions led by professionals with specific competencies
This master seeks to train leaders by providing them with the skills to lead and manage different institutions through the improvement of the educational quality so as to adapt them to the educational demands.
Outcomes
General Competencies
Providing the tools related to study, planning, consulting and advisory services for the organization and management of educational institutions to develop the knowledge and competencies for planning, organizing, leading, controlling, proposing and managing innovation for the improvement of educational centers.
Stimulating critical thinking, developing good judgment, good decision making and problem solving and providing the scientific research tools for the referenced contribution in innovative or the current topics of education.
Specific Competencies
By completing the program, students will be able to:
Analyze the different types of projects based on their ends and modes of management and identify the elements, phases and human resources and materials needed to make it happen.
Plan and design a project as adjusted to the needs of its own specific context.
Analyze and integrate the methods and styles of strategic management.
Identify the elements of a management system in the educational sector and prepare objectives and action plans for strategic management within different contexts.
Identify educational institutions as a global system that coherently integrates its units.
Analyze the factors that favor educational and innovative quality and compare the different models to evaluate the training processes.
Analyze and evaluate the innovation quality of education and create an innovation project for the classroom.
Analyze the main constructs related to management and teamwork techniques and describe the tools and techniques for improving the efficiency of this type of work.
Properly apply the techniques to lead and work as a team under a particular educational context.
Target Audience
This Master program aims to provide comprehensive, up-to-date information and training, and provide the foundations to develop the academic and professionals skills for the leadership, organization and management of education centers.
Duration
The maximum time available to complete this program is 24 months. The credit structure for the Master in Education with a Specialty in the Organization and Management of Education Centers is as follows:
Core subjects: 47
Concentration/Specialization: 13
Structure
MASTER IN EDUCATION WITH A SPECIALTY IN THE ORGANIZATION AND MANAGEMENT OF EDUCATION CENTERS
CODE
TITLE
PREREQUISITES
CREDIT HOURS
CLASS HOURS
CORE SUBJECTS
FP101
Learning Theory and Methodological Approaches of Education
N/A
3
45
FP102
Strategic Learning and Professional Development
N/A
3
45
FP087
Learning Factors
N/A
3
45
FP077
ITC in the Classroom. Educational Applications and Use of Resources
N/A
3
45
FP080
Resolution and Transformation of Conflicts in Education
N/A
3
45
FP079
Tutorial Actions in the Education System
N/A
3
45
FP078
Interculturality and Education
N/A
3
45
FP084
Environmental Education in Formal Education
N/A
3
45
FP103
Special Education Foundations: Processes of Attention to Diversity
N/A
3
45
FP104
Organization and Management of Educational Centers
N/A
3
45
FP092
Methodology of Scientific Research
N/A
3
45
ELECTIVES
FP105
Portfolio I
N/A
1
15
FP082
Project Planning and Management
N/A
3
45
FP081
Strategic Planning and Management
N/A
3
45
FP113
e-Business and its Integration with Corporate Management Systems
N/A
3
45
FP114
Educational Quality, Evaluation and Innovation
N/A
3
30
FP115
Management Techniques for Work Teams
N/A
3
30
FP108
Portfolio II
N/A
3
15
FP116
Portfolio III
N/A
3
30
TOTAL
60
900
Diagram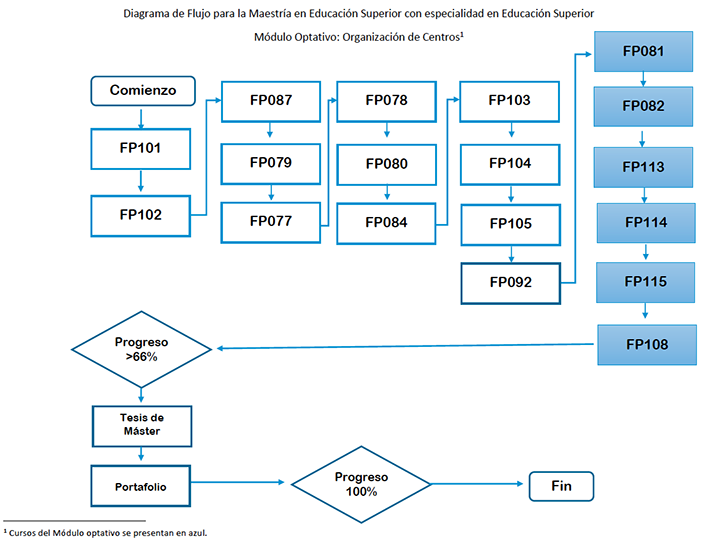 Degree
By passing these subjects and the Master's Thesis, and completing any other academic, administrative or economic requirements foreseen and required by the university, the following academic degree will be awarded:
Master in Education with a Specialty in the Organization and Management of Education Centers